Who Are We?
Established in 1949, Loomis Bros. Equipment Co. is a full service distributor of commercial laundry and dry cleaning equipment. Our corporate headquarters are located near St. Louis in Fenton, Missouri. We do much more than just sell equipment. We provide a complete structure of support for our customers; plant layout and design, turnkey installations, planned maintenance programs, overnight parts delivery, and emergency service by our fleet of factory trained service technicians. Whether you're building a new facility or re-equipping an existing one, our team of experienced professionals can guide you every step of the way.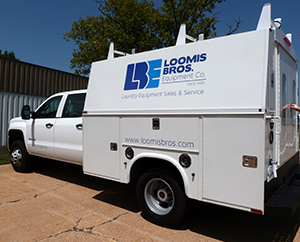 A Rich Legacy of Goodwill throughout the Midwest
As a third generation family business, we inherited a rich legacy of goodwill. Our hard work and dedication to serving our customers have earned us Congressional Recognition for customer service excellence.
Who Are Our Customers?
Over the years, our customer base has grown dramatically to include customers with any size application; from small mom-and-pop laundromats up to huge, fully automated commercial laundries processing millions of pounds per year. These customers include:
Healthcare Laundries
Hospitals
Nursing Homes
Assisted Living
Out-Patient Centers
Hospitality
Hotels & Motels
Resorts & Time-Share Properties
Retreat & Meeting Centers
Restaurants
Casinos
Professional
Linen Rental Companies
Commercial Laundries
Industrial Laundries
Uniform Rental Services
Professional Dry Cleaners
Coin-Op Laundries
Other Industries
Health Clubs
Golf and Tennis Clubs
Professional Sports Clubs
Private Industry
Design Professionals
Architects
Designers and Planners
Engineers
General Contractors
Governmental
Correctional Institutions
Fire Departments
Veteran's Administration
County & State Healthcare Developers
The Military Services
Multi-Housing
Schools and Universities
Apartments
Campgrounds
Condominiums
Hotel Guest Laundries