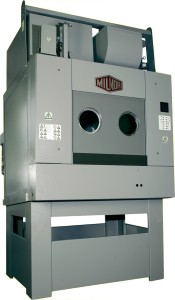 Loomis Bros. Equipment Co. has been an exclusive Milnor® equipment dealer for over 65 years. Milnor® industrial laundry machines are built from innovative engineering solutions designed to boost laundry effectiveness and efficiency. Milnor® produces Large Washer Extractors (up to 700 lb), CBW® Batch Washers, PulseFlow® PBW™ Tunnel SYstems , Large Capacity Dryers, and Extraction Systems. Milnor® has the reputation of building reliable industrial laundry systems and is one of the most respected brand names in the industry.
We service everything we sell and most other brands of laundry equipment. Our parts department and Resident Field Service Technicians are located strategically throughout our territory which allows us to respond quickly to your needs. This ensures quality service so your commercial laundry equipment is always running smoothly.
Contact Loomis Bros. Equipment Co. for industrial laundry equipment sales and service needs.